THE NEW ERA OF SUPPLY RESTRICTIONS
(I think) for all those who are worried about rising commodity prices resulting in more supply. Well, that will come, but not anytime soon. The reason? The ingrained ESG/socialist ideology. Here are a few examples…
UK's Minister of Finance "hinting" of windfall taxes:

The UK isn't alone. Echoes of windfall taxes are being heard in North America and Europe and obscure places like Greece.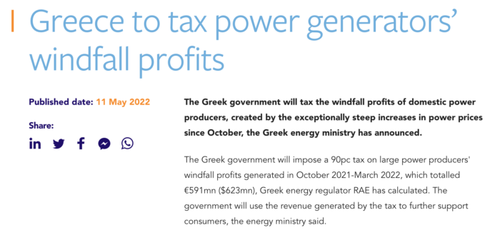 Wow, this is a real encouragement to power generators to generate more power or invest to enable them to produce more.
Speaking of investing in infrastructure — this is hardly the sort of behavior that is encouraging:
German officials are quietly preparing for any sudden halt in Russian gas supplies with an emergency package that could include taking control of critical firms, three people familiar with the matter told Reuters.

The preparations being led by the Ministry for Economic Affairs show the heightened state of alert about supplies of the gas that powers Europe's biggest economy and is critical for the production of steel, plastics and cars.

Last month, Berlin approved a legal change to allow it to take control of energy companies as a last resort.

It is now discussing how it could use the measure in practice, such as by taking control of the PCK refinery operated by Russia's Rosneft (ROSN.MM) in Schwedt near Poland, two of the people said. It accounts for most of Germany's remaining Russian oil imports and could be hit by a European Union oil embargo.

One of the people said the nationalisation of energy companies was an option being considered but it would have to be weighed carefully and justified on the grounds of securing energy supplies rather than to punish Russia.
Nationalization is something you would expect to see coming out of Africa (yes, it happened to Anglo American's Zambian copper mines in the early 1970s), not the "epitome of civilized man": Germany.
Investment implications? Supply restrictions, higher commodity prices, inflation, higher cost of capital, and social strife.
What a time to be alive, heh?