Simon Property Group (SPG) and Brookfield Asset Management (BAMR), the new owners of JCPenney, have allegedly made an offer to acquire department store retail chain Kohl's for $8.6 billion, New York Post reports, citing sources close to the talks. 
Under the proposal, SPG and BAMR would purchase Kohl's for around $68 per share, sources said. The plan is for JCPenney's corporate parents to keep the brands separate but streamline backend operations and trim costs. 
Simon and Brookfield have proposed that a single management team would operate JCPenney and Kohl's while merging the information technology systems so that one unit is in charge of the chains, according to a source. The companies would also have all private apparel manufactured by the same in-house label, the source said. -NYPost 
SPG and BAMR believe they can reduce costs by $1 billion over the next three years, the sources added. 
Kohl's shares jumped as much as 4.5% on the news, the most since early April.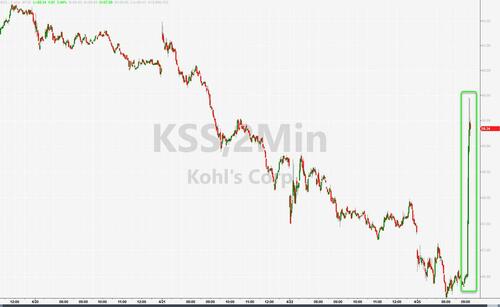 It's crucial to note SPG and BAMR bought JCPenney after the century-old retailer filed for Chapter 11 bankruptcy in May 2020.
"Private equity giants Sycamore Partners and Leonard Green & Partner as well as Saks Fifth Avenue's Canada-based parent company Hudson's Bay are reportedly interested in acquiring Kohl's," NYPost said, adding Goldman Sachs' M&A team could be used for the potential sale.  
SPG and BAMR's department store ambitions come as Amazon and other e-commerce stores crush retail brick and mortar.