More than a year ago, I predicted, much to the disbelief of everyone, that BTC prices would plunge, after an initial run-up, when the first BTC ETFs started trading. Most BTC predictions, based upon expectations of massive institutional inflows, upon BTC ETF launches, were similar to the headlines above. On the contrary, last January 2021, I published an article here, in which I explicitly stated:
"We all need to be careful of who we willingly invite into our homes, as a bitcoin ETF will not only give access to big Wall Street players to invest in bitcoin, but also will serve as an open invitation for them to gain complete control over its future price. Be warned of rotting fish heads packaged as nice, neat gifts tied with red ribbons. Products sold to us as for the benefit of current holders rarely are what they appear to be. Recall, we live in The Age of Deception, and virtually nothing is ever as it first appears to be."
I explained exactly how I believed BTC prices would behave in regard to the introduction of the first BTC ETFs, with initial price surges greeting BTC but then followed with frequent price suppression schemes. I called out those that didn't understand how derivative products would forever alter the BTC price management game, and not in a positive manner for current BTC investors/hodlers.
The first BTC ETF, the Purpose BTC ETF, was a Canadian product, and started trading 18 February 2021. The first US BTC ETF, BITO, started trading later that year on 19 October 2021. I also stated the following, in the above aforementioned article, before the release of these BTC ETFs:
"Initially, if a BTC ETF is legislated into existence, do I expect an upward knee-jerk reaction in BTC prices? Yes, I do. This will almost definitely be a 'buy the news' event. However, could a deadly drop in prices, similar to what happened after the BTC futures contracts started trading at the end of 2017 then follow? Absolutely."
Below, you can observe BTC prices immediately preceding the introduction of the first Canadian and the first US BTC ETF.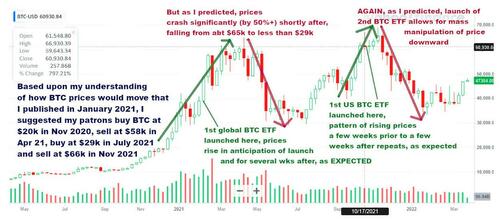 As was expected, BTC prices significantly climbed into the BTC ETF launches and continued to climb for a short period after their introduction as well. Predicting this price behavior was not any grand revelation on my part. However, following the initial rise in prices, my prediction for BTC price behavior completely diverged from the crypto experts based upon my understanding of how the banking industry uses derivative products to significantly control asset prices.  I not only predicted a strong possibility of a deadly drop in prices "similar to [the price drop that] happened after the [first] BTC futures contracts started trading",  but I extended this prediction to the provision of actual guidance to my skwealthacademy patrons to sell at $58,000 in April 2021, and after providing repurchase guidance for BTC at sub $30,000 prices later that July, to once again sell at $66,000 in November 2021. Thus, my patrons that followed my buying and selling guidance during this period locked in enormous gains right before multiple 50% drops in BTC prices materialized, despite both my selling warnings massively diverging from the consensus views of the bitcoin community at the time.
As recently as in the last week of March, I informed my skwealthacademy patrons not to become excited about the rise to a tad under $47,500 because the metrics I follow had not provided a buy signal and that another downdraft in prices was likely. Prices fell by more than 9% to just above $43,000 in the next three days.  These metrics  provided warnings to sell near the March/April 2021 highs in the mid $60k range and again in early November 2021 at $69k (these metrics are not technical charting metrics as ask yourself how many technical chartists advised you to sell last year in late March and in early November 2021). Those that missed the clear signals to sell back then clearly were following the crypto herd, and thus missed many warning signs to sell that preceded those peaks. I also predicted Million Coin (MM) would fall to $1 by 31 March 2022 when it was trading near $80 in July 2021. While it fell to $5.48 on 1 April 2022 and did not quite hit $1, it lost over 93% in price since my prediction, so one would have been well served by heeding my prediction in the summer of 2021.

However, my most controversial views have not been my sell warnings in any asset that people believe can only go higher (and that includes gold and silver as well, not just cryptos). My most controversial views pertain to the consequences of coming US regulatory laws on BTC prices, as my views on this topic also massively diverge from those of the bitcoin community. While the biggest BTC whales keep preaching that regulations will help "legitimize" bitcoin as another form of money and thus send BTC prices to the moon, I am firm in my belief that when significant BTC regulations are passed into law (which will likely happen with little warning), the severity of such regulations will create downward price shocks, and the opposite effect than expected by most in the BTC community (that expect regulations to be favorable and to drive BTC prices to the moon).
PS. You may always read my articles first either on my skwealthacademy news site or on my substack newsletter platform. This article was originally published on my news site on 31 March 2022. Please bookmark and subscribe to these platforms to receive emails about when I first publish articles if you would like to read them when first published, as many contain information time-relevant to the published date.